EIZO LX300W
29.8" | 4 Megapixels| Color IPS
The 29.8-inch 4 megapixel monitor in widescreen format is designed for use in operating rooms (interventional radiology, cardiology, or surgery). It is a value for money solution for smaller examination and operating rooms where individual monitors increasingly are being replaced by large-format screens capable of displaying multiple image sources simultaneously.



Environmentally-friendly LED backlight offers a maximum brightness of 750 cd/m².


Intelligent cooling system controls the fan depending on the temperatur inside the monitor.


Fail-safe function displays additional video signal in case of interruptions in the system's image transmission.


Up to three video sources can be displayed simultaneously.


Flexible operating modes in landscape and portrait format.


Factory-adjusted grayscale tones to meet DICOM Part 14 standard for optimum viewing of medical DICOM imagess.


Five factory calibrated Look-up tables adaptable to diverse modality environments.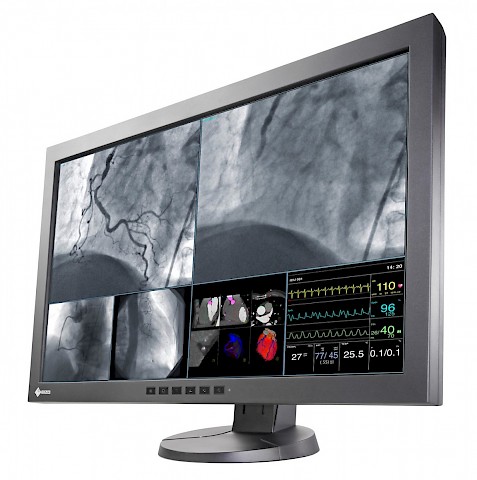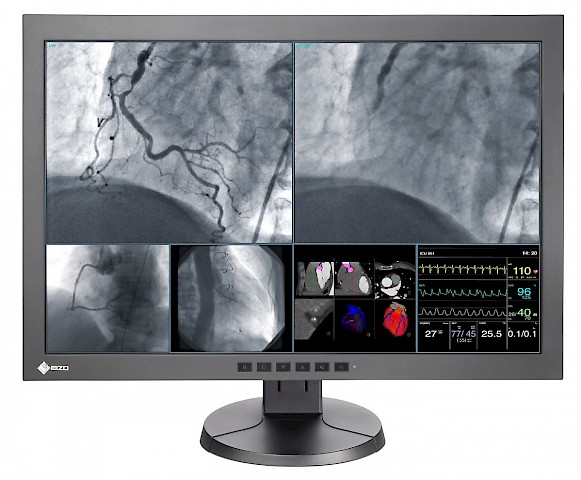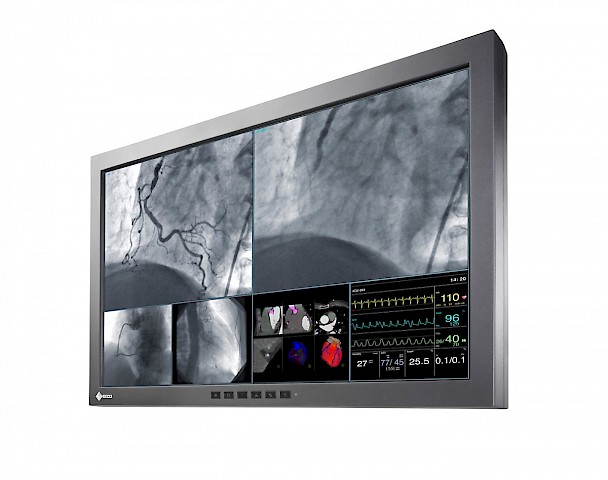 Everything in a Single Glance
Large widescreen monitors with high resolution can be used instead of single 1 Megapixel monitors in ceiling suspensions. Compared with multi-monitor scenarios, these large screen monitors have no regional color differences or obtrusive bezels, thus reducing eye fatigue and the potential for distraction.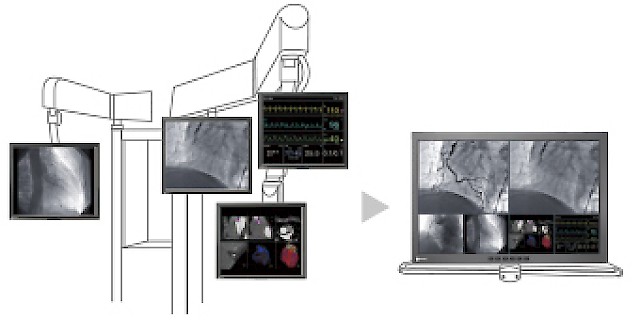 Controlled Cooling
The monitor features intelligent cooling concept by measuring and controlling the inside temperature. A mode without fan cooling is selectable so the controlled laminar airflow will be undisturbed within the room as far as possible.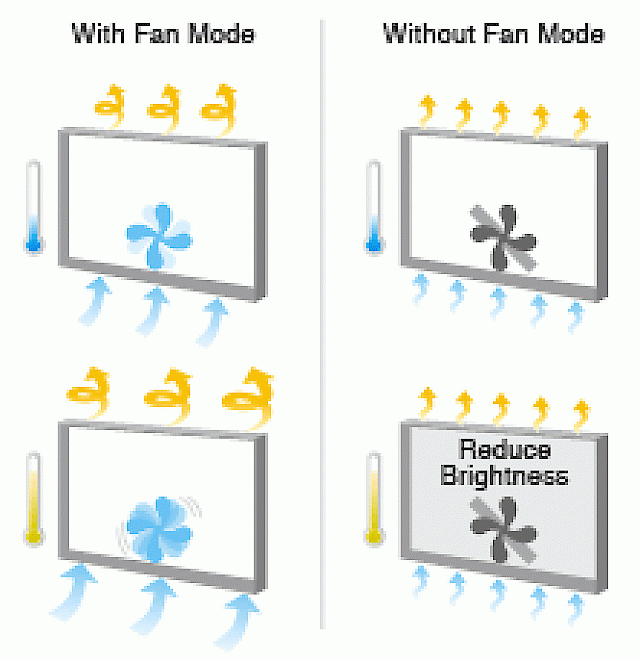 Fail-Safe Function
Special fail-safe mode through DVI input for emergency information from the system for a certain timing. As soon as the timing is active, the information will be shown immediately on the upper left screen side.
Flexible Operation Modes
Up to three input signals can be displayed simultaneously. The images can be arranged side by side or as Picture in Picture (PiP), while image rotation is managed by the monitor.
Environmentally-Friendly LED Backlight
By utilizing an energy-efficient LED as a backlight, the monitor achieves a high-brightness and low power consumption at the same time. Unlike conventional CCFL backlights, LED backlights deteriorate more slowly and thus the monitor offers a longer service life. Since the LED backlight is mercury free, it will reduce any potential impact on the environment when it is disposed of.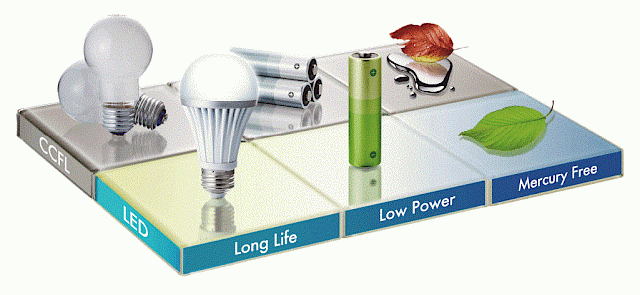 Communication Interface
The communication interface is routed via the DVI or USB connection. The operating states of the monitor can be read and switched via the interface, e.g. in Power Safe Mode. In particular, the monitor functionality can be queried using the interface.
LCD Panel Protector for Easy Cleaning
The panel protector secures the screens from scratches, damages and liquids and alleviates cleaning and disinfection of the front surface.
Diagnostic Precision with Factory Adjustment
To ensure the most accurate and consistent shadings possible, EIZO carefully measures and sets every grayscale tone on the production line to offer monitors fully compliant with DICOM Part 14.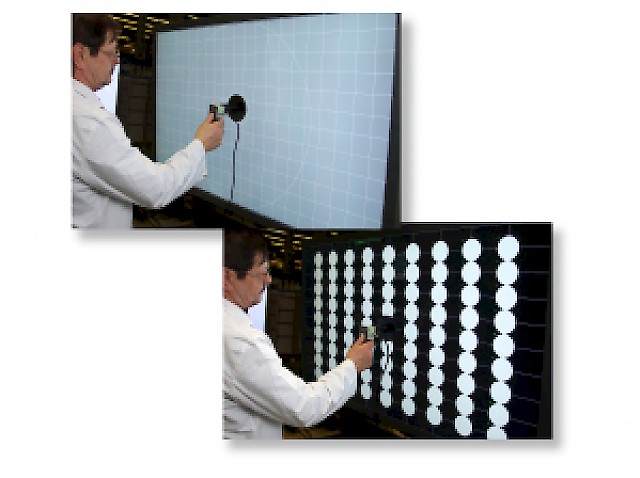 Brightness Uniformity for Constant Brightness Across the Screen
The Digital Uniformity Equalizer (DUE) function provides optimum backlight luminance uniformity which is considered difficult to attain due to the characteristics of LCD monitors, especially with larger screen sizes.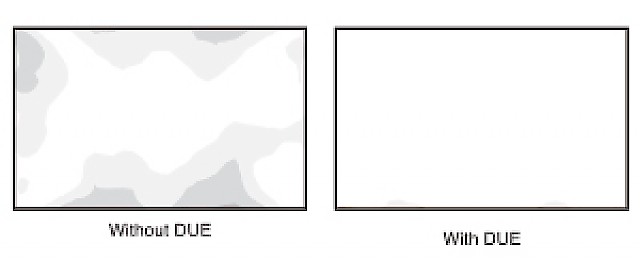 Quick Brightness Stabilization for Instant Viewing
EIZO's fully automated stability function makes use of an internal backlight sensor to quickly stabilize the brightness level at startup and to compensate for fluctuations caused by variations in ambient temperature and the passage of time.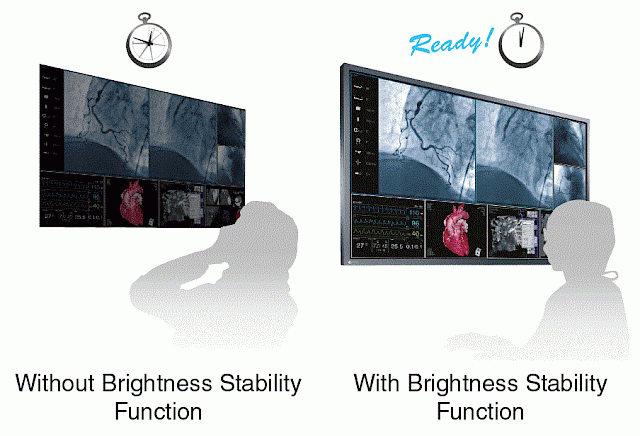 Comfortably View from Any Angle
Wide viewing angles allow the monitor to be viewed from the side with minimal color shift, thus offering a quality image to multiple persons watching from different perspectives simultaneously.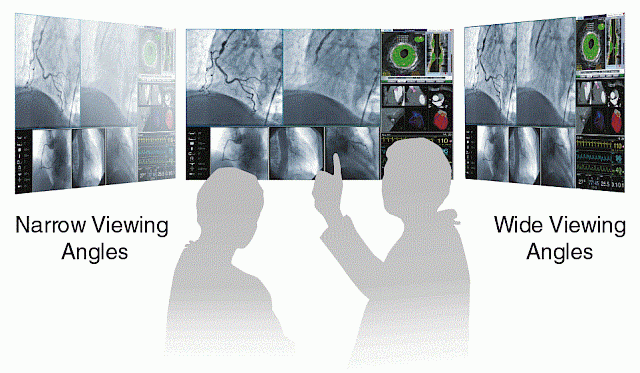 Maintain the Precision
Monitor calibration can be carried out to maintain DICOM Part 14 compliance for rendering consistency over time.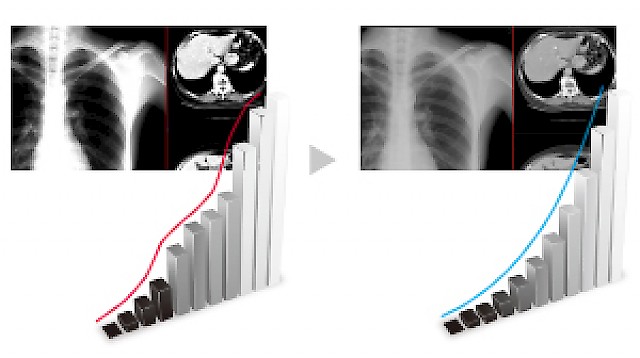 Arm Mountable VESA Compliance
VESA compliance to be attached to existing mounting accessories.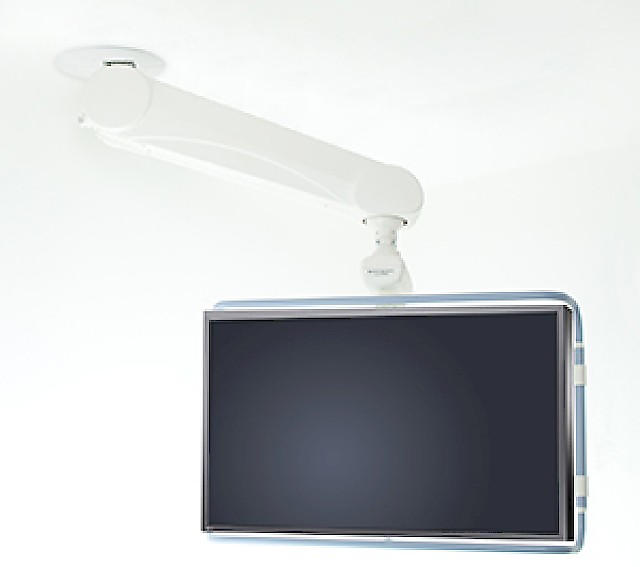 Customer Assurance with Medical Standards
The monitor meets the strictest medical, safety, and EMC emission standards.