EIZO EV2750
27" | 3.7 Megapixels| Color IPS
An Ultra HD, energy efficient monitor that's nice to look at and even better to use. The EV range are true professional monitors with many user-comfort and energy saving features. The models listed on our website have been chosen for the added feature of a DICOM preset mode for viewing medical images. These are particularly suited to consultants rooms, and can be used as a general desktop monitor.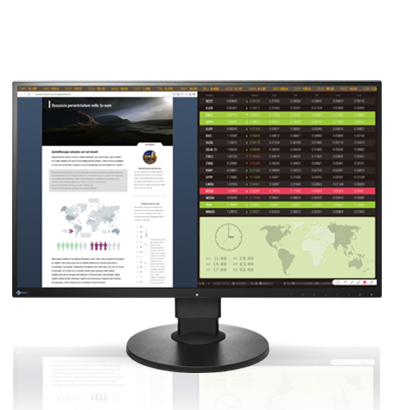 See more with a DICOM pre-set mode
The DICOM preset mode simulates a DICOM curve which is set in the factory. These monitors give the consultant an edge over standard desktop monitors for viewing medical images. At the same time, get the advantage of a vastly superior desktop monitor.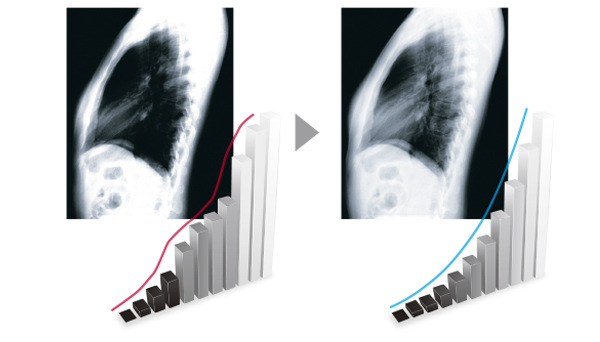 World's Thinnest Bezels for Multi-Monitor Environments
The monitor features ultra-slim bezels of just 1 mm on the sides and top with black borders of 5.7 mm or less on the LCD panel perimeter. The cabinet depth is a mere 48.5 mm. This makes for an attractive design that blends in with the desktop and reduces eye movement in a multi-monitor setup.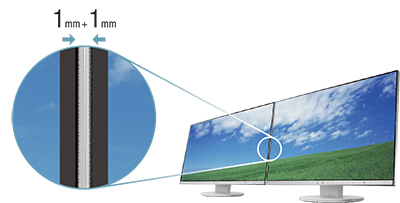 Best Positioning with Flexible Stand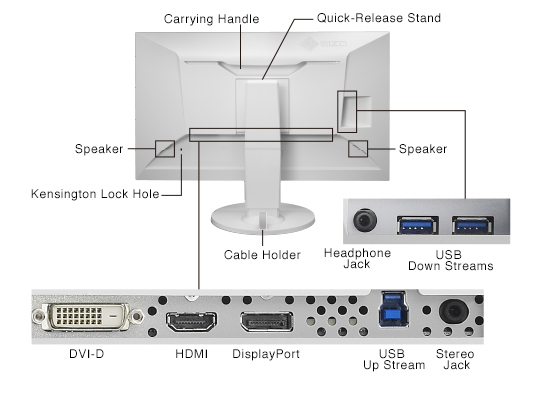 Say Goodbye to Tired Eyes
Clear View From All Angles
The monitor uses an LED-backlit IPS (in-plane switching) LCD panel with 178° viewing angle that minimizes color shift and contrast changes when viewing the screen at an angle.
Flicker-Free
Due to the way brightness is controlled on LED backlights, many people perceive flicker on their screen which causes eye fatigue. The FlexScan EV series makes flicker unperceivable without any drawbacks like compromising color stability.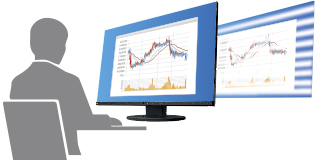 Auto Brightness Control
To prevent eye fatigue, a brightness sensor called Auto EcoView detects the changes in the ambient brightness that occurs throughout the day and automatically adjusts the screen to the ideal brightness level.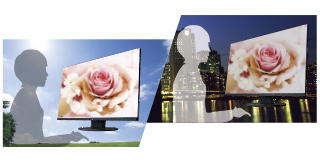 Adjustable to Less Than 1% of Maximum Brightness
In a dimly-lit work environment, a monitor with low brightness settings is more comfortable to use. With its LED backlight, the monitor is adjustable to approximately 1 cd/m² which is less than 1% of the maximum.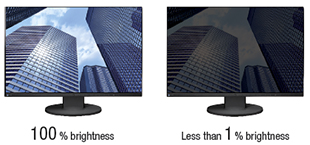 Less Blue Light Reduces Eye Fatigue
In the visible light spectrum, blue light has wave lengths adjacent to ultraviolet light. Compared to the factory preset setting of 6,500 K of typical LCD monitors, Paper Mode is closer to the spectral distribution with long reddish wavelengths so it reduces the amount of blue light, a cause of eye fatigue, and helps prevent eyestrain when reading documents.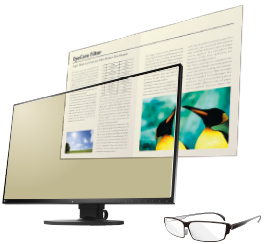 Stefan Hartter, Head of Calibration and Maintenance at TÜV Rheinland Japan, commented, "We have measured EIZO FlexScan EV Series monitors with different brightness levels and display modes (blue-light strength, wavelength, etc.). We confirmed that the FlexScan EV Series is truly flicker-free and provides eye-pleasing images even in low-brightness environments."

Picture by Picture
The FlexScan EV2750 lets you view data from two input sources at once such as a Windows and a Macintosh computer with no distracting bezel in between.

LED Backlights – Less Power, Longer Life
Compared to CCFL backlights, LED backlights last longer and consume less power. They are also mercury-free for minimal environmental impact.
Reduce Power by up to 30%
A new feature called EcoView Optimizer 2 saves energy by up to 30% by reducing the backlight brightness and increasing the gain. To maintain image quality, EcoView Optimizer 2 only boosts the gain with a screen consisting mostly of dark content because the accompanying reduction in brightness is almost unperceivable.
ZERO BRIGHT PIXELS
EIZO guarantees this product will be free from bright sub-pixels for six months from purchase date for purchases made on September 1, 2015 or later. See our Bright Pixel Policy for details.

5-YEAR WARRANTY
A manufacturer's 5-year warranty covers all components including the LCD panel to ensure a long service life. This warranty is 2-years or 67% longer than the standard 3-year warranty of most monitor brands for significantly lower running costs.


Compliance with International Labels

Simplify Screen Adjustment with EIZO-Developed Software
ScreenManager Pro for Personal Settings
ScreenManager Pro lets users adjust color and EcoView settings with the mouse and keyboard instead of the on-screen display menu. It also offers multimonitor matching which allows adjustments to be applied to all FlexScan monitors connected to a single PC.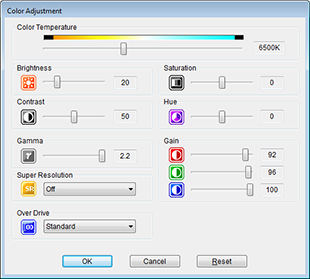 EIZO Monitor Configurator for Administrators
EIZO Monitor Configurator lets system administrators control the settings of all FlexScan EV monitors with a USB connection. The settings of one monitor can be saved as an xml file and can apply to other monitors via USB or office network.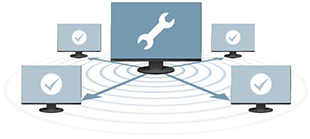 Free Up Your Workspace with a Stand Bracket
The PCSK-03 is a VESA-compliant bracket for easily mounting a client terminal such as a thin client or mini PC to the back of the monitor's stand. The space the client terminal previously occupied is now freed up so you can make better use of your desktop. Even with the client terminal attached you can adjust the monitor's stand freely.