SOTI Device Management
Soti One is a unique product that enables organisations to maintain a register of all devices, and then using the tools within the platform, manage those devices.
The Soti One platform makes Mobile and IoT business operations simpler, smarter and more reliable.
SOTI is already used extensively in many industry sectors throughout New Zealand, and has a particular advantage when applied to healthcare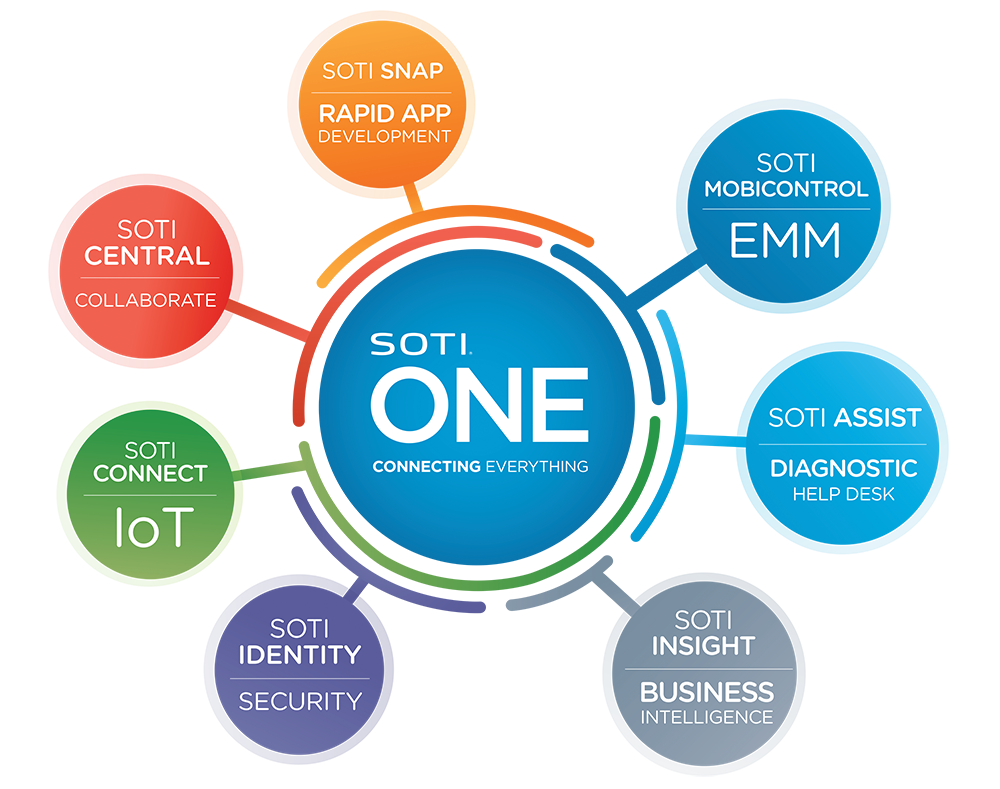 Imagine a register of every device in your organisation from handheld computers and phones through to printers and medical modalities in one location; every electronic device that has connectivity and a serial number.

You can see where the device is, control that device, update it, and even ring-fence it to lock it down and alert if it strays.

Different user rights can apply to different staff or staff levels - This means one device can be used by a nurse, a caregiver, a doctor or even inwards goods and inventory management. Kiosk mode is a lockdown on the devices and can be used to increase productivity and avoid breach of regulations by securing sensitive information on the devices. One device - several users.

Helpdesk interactions are simplified and shortened. Software updates are automated. Devices are managed in the background with no user interaction. Deploy wireless or biometric authentication methods.

The list goes on, and so do the cost savings. Contact us today for more information and a free trial. Try out a limited deployment before you go "all-in".

See https://soti.net/ to learn more about Soti or https://soti.net/industries/healthcare/ for Soti Healthcare


Contact us to see how SOTI benefits outweigh the costs while delivering device and information security