EIZO Quality Control Systems

Ensuring that the quality control of each client monitor complies with important medical standards, from calibration to acceptance and constancy tests to history and asset management, requires technical know-how and experience. EIZO offers software and sensors that makes quality control efficient and user-friendly.
---
---

RadiCS
RadiCS is the EIZO quality control software for each individual monitor. RadiCS LE (light edition) comes standard with every RadiForce monitor, while the RadiCS full version can be purchased as an extra. Each hospital or practice only needs to purchase the RadiCS full version once. This covers all monitors, and all subsequent software updates are free of charge.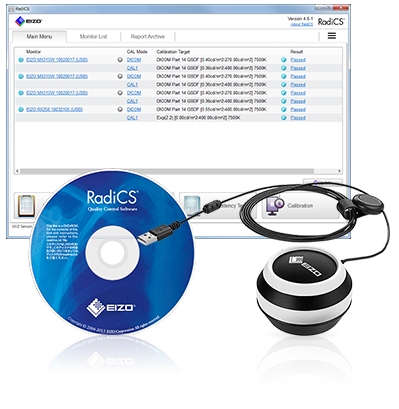 RadiNET Pro
RadiNET Pro is the overall control center for a fleet of monitors in an organisation that is running RadiCS. The cloud edition is free, while the server edition can be purchased. Each license can run up to 8000 monitors.