Radiology Diagnosis - Home Reporting

Working at home with remote access is one way of solving the problem of reporting backlogs and improving the radiology service. Radiologists are finding they can balance their work/home-life, and at the same time get through more reports if they have the flexibility of complimenting their main reporting with part-time work at home.
The EIZO MX315 meets the RANZCR standards, gives the user a very similar experience to the RX660, and if only used part-time will achieve the same longevity. Fully automated QC using RadiCS with the built-in sensor, and RadiNET Pro enables the company administrator to achieve the same level of reporting as with the on-site monitors.
---
---
DPI Medical Monitor Lineup
Click on the chart to see a line-up of EIZO medical monitors that are generally sold in New Zealand.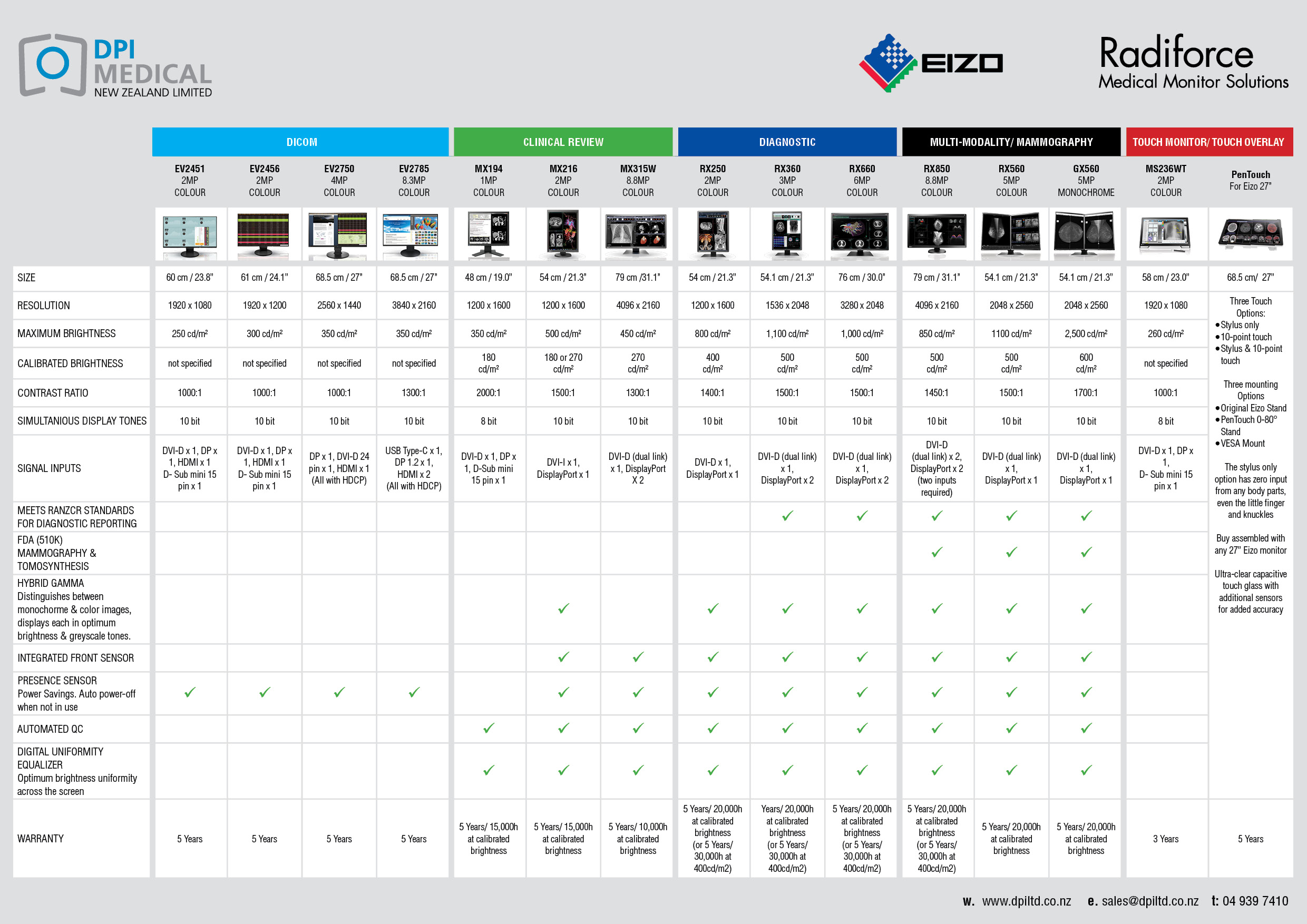 Report from home with full assurance
Meet RANZCR Requirements at home
The MX315 is 8.3MP, and within RadiCS the backlight can be adjusted to 350cdm. Along with other requirements, this meets the RANZCR standards for diagnostic reporting workstations.

You may wonder - Why are is the MX315 not used for full-time reporting? The MX315 backlight is 450cdm maximum, compared to the RX600 at 1000cdm with a recommended running brightness of 500cdm. Put into a full-time multi-shift environment, the MX315 will not last the distance, but if it is only used part-time, the MX315 will still give many years of use, but with about half of the out-lay cost.


MANAGE EFFORTLESS QUALITY CONTROL
Like the RX range, the MX315 has a built-in Integrated Front Sensor (IFS) measuring brightness and grayscale tones to calibrate to DICOM Part 14. The home-reporting monitors can be incorporated into the main hospital RadiNET Pro QC network, giving assurance to administrators and users.

Create Correct Lighting with the RadiLIGHT
The RadiLIGHT is an optional extra that easily transforms an un-lit room into a comfortable working space. Use any room in the house without the need of special lighting and dimming switches.