EIZO GX560
21.3" | 5 Megapixels| Monochrome IPS
This 5 megapixel, high-brightness monochrome monitor has the high-definition display necessary for breast imaging. It combines ease-of-use, such as a narrow bezel design to help your eyes swiftly move from one monitor to another, with new functions to help you focus on your work and maintain high performance.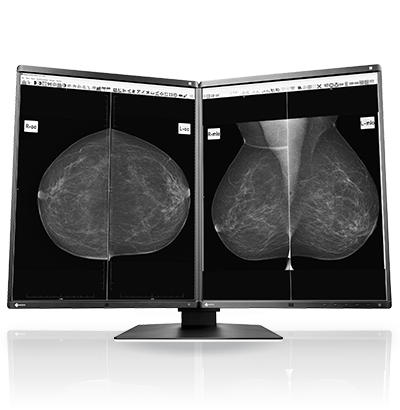 The GX560 MammoDuo integrates two GX560 monitors side by side on a specifically designed stand. The two sides have a magnetic strip to ensure no gap between the bezels.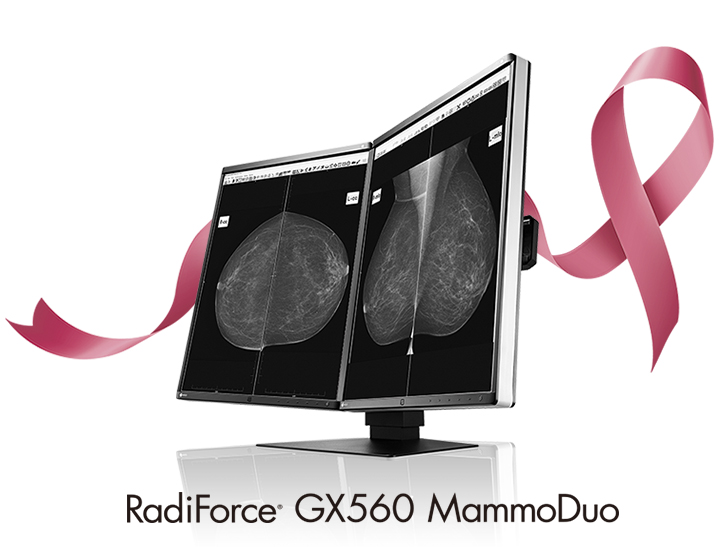 Distraction-Free Viewing
With a 7.5 mm bezel, the world's narrowest bezel on a 5 megapixel monitor, the total distance between two side-by-side screens is only 15 mm. Furthermore the screen is almost completely flat with the bezel sitting only 2.5 mm above the screen.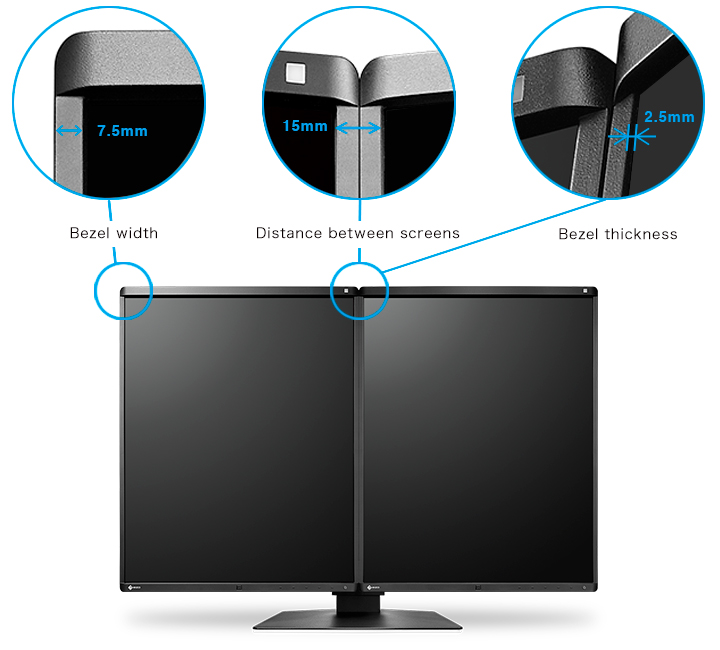 Space Saving
Due to the thinner bezels, the GX560 MammoDuo is slimmer than two conventional 5 megapixel monitors by 67 mm horizontally, 36 mm vertically and 20.5 mm in depth. Furthermore, the total occupying space is reduced by 22%.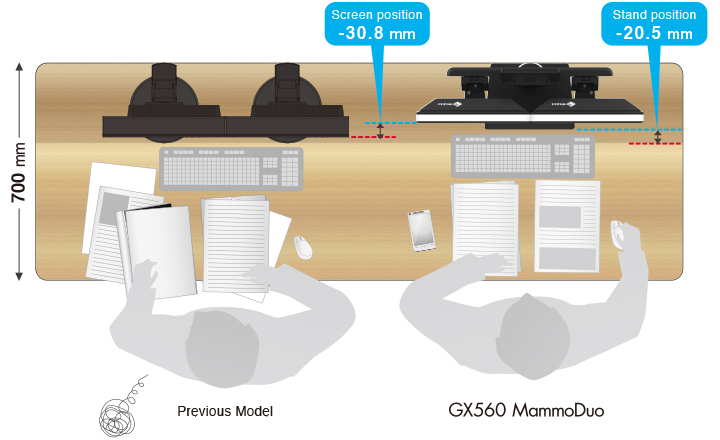 Easy Adjustment
With the newly designed stand, you can adjust the height, tilt, and swivel of the two monitors without any gaps appearing between them. This is assisted by the two sides having a magnetic strip to ensure no gap between the bezels.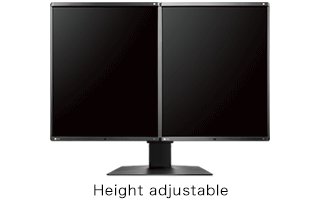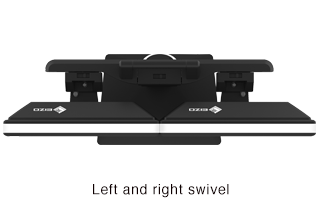 The RadiForce GX560 is also available as a single monitor and stand.

Clean and Sophisticated
The black front bezels are ideal for viewing the screen in dark reading rooms, making it easier to focus on images, while the original white stripe around the sides of the monitor presents a fresh, clean aesthetic.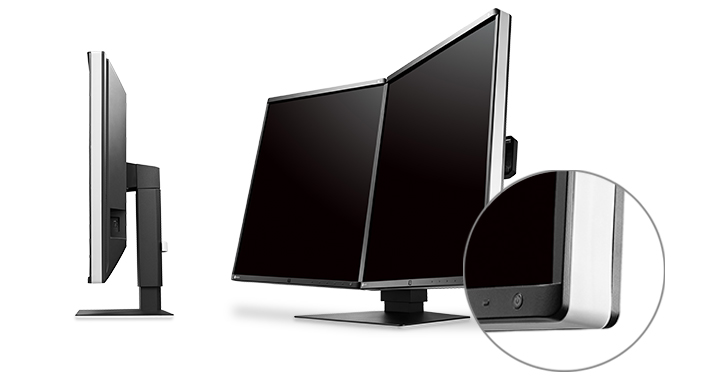 EVOLVE YOUR IMAGE READING
As more image modalities become digitalized, radiologists are viewing an increasing amount of information on their screens. EIZO's unique Work-and-Flow technology alleviates the complexity of the imaging workflow with new functions developed with the radiologist in mind. Users can take advantage of Work-and-Flow features with the RadiForce monitor and bundled RadiCS LE software.
QUICK INFORMATION REFERENCING: HIDE-AND-SEEK
The Hide-and-Seek function enables users to easily hide the PinP (Picture in Picture) window not currently in use and reopen as needed by moving the mouse cursor to the edge of the screen. This eliminates the need for an extra monitor while still allowing quick and efficient viewing of reports or patient charts.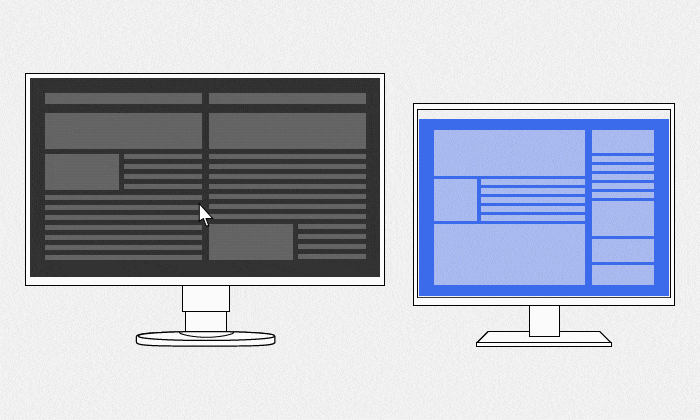 BARRIER-FREE WORKSTYLE: SWITCH-AND-GO
The Switch-and-Go function allows USB switching through the monitor, enabling the use of a single keyboard and mouse across two connected PCs.This is convenient for dual-monitor/PC environments, or when changing inputs on a single monitor connected to two PCs.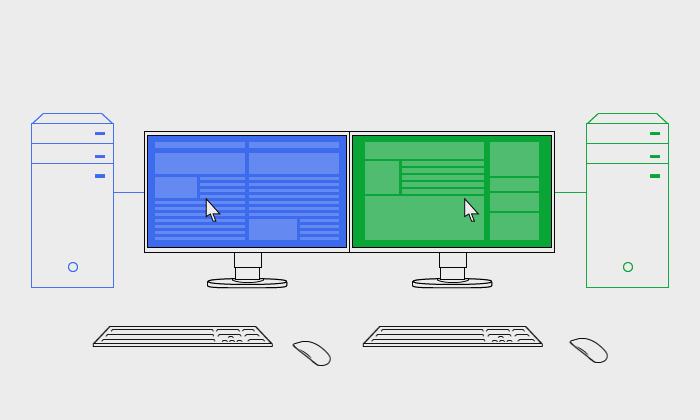 View Mammography Images Clearly
5 megapixel monitors allow you to see smaller details that are essential in digital mammography. The high resolution retains important information to prevent decreased image quality and pixelation that occurs when viewing at a lower resolution.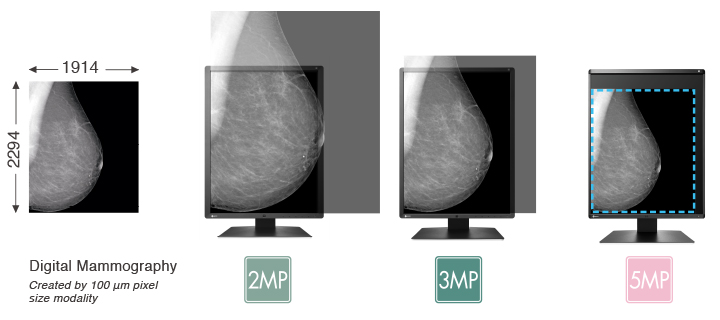 Optimum Breast Screening Monitor
The GX560 adopts an LTPS (Low Temperature Polysilicon) panel, which allows the monitor to achieve a maximum brightness of 2,500 cd/m2. If calibrated to the recommended brightness of 1000 cd/m2, EIZO guarantees 5 years of use.
Furthermore, it has a contrast ratio of 1700:1, displaying deep blacks and bright whites without any washout. This makes it suitable to use with breast tomosynthesis and mammography which require clear visibility.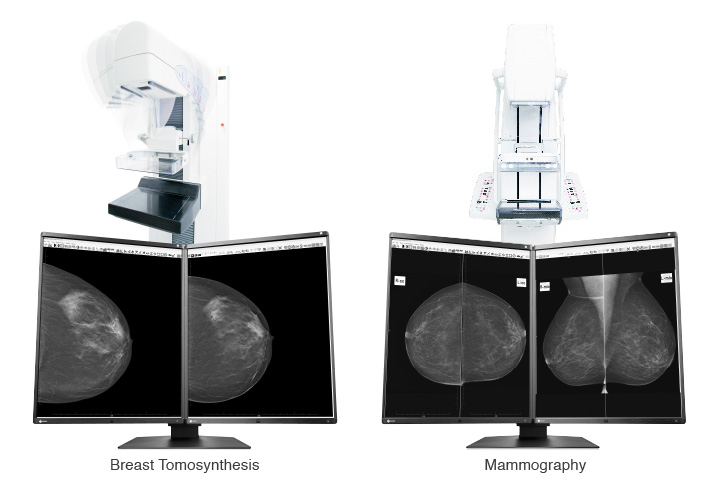 High Definition Display with Smooth Transition
The monitor has a response time of 12 milliseconds, making it ideal for smoothly and continuously viewing tomographic images such as breast tomosynthesis, MRI and CT. In addition, with a pixel pitch of 0.165 mm and 10-bit (1,024 tones) simultaneous grayscale display, subtle density differences can be easily distinguished.

Achieve Clarity True to the Source Data
A medical monitor needs to be capable of high brightness in order to meet performance standards. However, in order to achieve high brightness in an LCD panel, the pixel aperture ratio has to be increased. This causes a typically unavoidable decline in sharpness. With EIZO's unique Sharpness Recovery technology, the decrease in sharpness (MTF) is restored. This allows you to display an image safely on the monitor that is true to the original source data, even at high brightness levels.
MTF measures numerically how faithfully the panel transfers detail from the original image data for viewing. When Sharpness Recovery is turned on, in the case of a 2 pixel line pair (spatial frequency of 1.515 cycles/mm) the MTF increases by approximately 45.5%.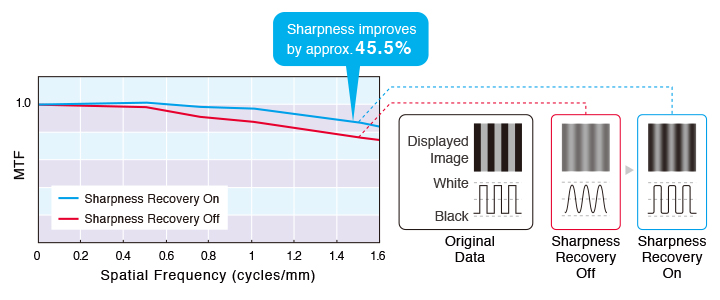 Variations for Specific User Needs
EIZO offers anti-glare (AG) and anti-reflection (AR) screen variations to suit user environments. AG treatment is ideal for exceptionally bright environments and drastically reduces glare from ambient lighting. AR treatment is ideal for moderately-lit environments to reduce mild screen glare while maintaining crisp text and images.

Hassle-Free Multi-Monitor Configuration
Using the DisplayPort connection, you can drive several monitors in a daisy chain sequence. This allows you to configure a multi-monitor setup without the complicated hassle of excessive cabling.
Make the Precise Diagnosis
EIZO carefully measures and sets each grayscale tone to create a monitor compliant with DICOM Part 14. Furthermore, at startup or upon wakeup, the EIZO patented drift correction function quickly stabilizes the brightness level and compensates the brightness fluctuations caused by the ambient temperature and the passage of time, allowing medical images to be faithfully reproduced with stable brightness and grayscale.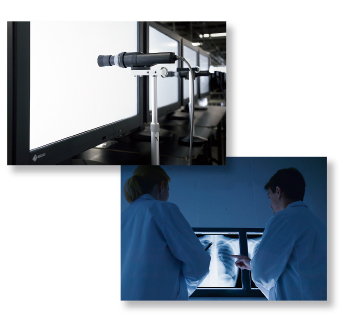 Manage Effortless Quality Control
With the RadiCS LE software (included) and Integrated Front Sensor (IFS) built into the front bezel, you can easily calibrate to DICOM Part 14 without having to mount, run, and remove an external sensor.

Simple calibration using the monitor backlight sensor is also supported.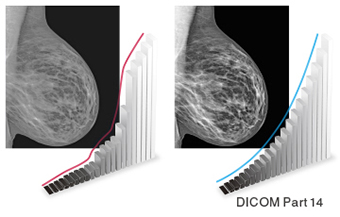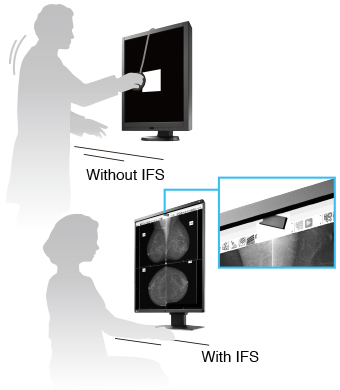 Select the Ideal Mode for Modalities
The CAL Switch function allows you to choose various modes for different modalities such as mammography, MRI, and endoscopy. It can be conveniently accessed using the monitor's front panel buttons to easily switch to optimal image viewing conditions.

Conserve Energy While Away
A presence sensor prompts the monitor to switch to power save mode when the user is away and resumes operation upon their return to conserve power when not in use, uniting convenience with savings.
Digital Mammography Monitor Quality Control Standards Compliance
EIZO's easy-to-use RadiCS UX2 quality control software & calibration sensor (sold separately) performs precise calibration conforming to DICOM Part 14 and enables quality control complying with ACR Practice Guideline and other QC standard for digital mammography monitors.

Rest Assured with Medical Qualifications
The monitor meets the strictest medical, safety, and EMC emission standards.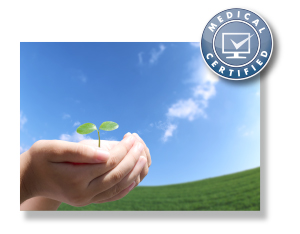 Warranty with Safety and Trust
EIZO and its authorized distributors offer a five-year full warranty.